Sailor Moon
---
Moon Kick Ass Beauty Strike
Sprite Style: Arcade Bishoujo Senshi Sailor Moon


I combined two cute sprites together!


68x96 pixels
---
Chibi Sailor Moon Manga Style
Sprite Style: NES - Nakayoshi to Issho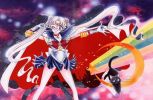 I like when Naoko Takeuchi would draw the sailor soldiers in more unique suits. And this Sailor Moon one's pretty great! Luckily there is a Tuxedo Mask sprite from Nakayoshi to Issho, so it was able to help me out with the cape! I gave Sailor Moon a smiling face too, so it'd look more fun!


55x66 pixels
---
Sailor Moon in Crescent Moon
Sprite Style: SNES - Sailor Moon Another Story


40x38 pixels
---
Simple Sailor Moon
Sprite Style: Game Gear - Bishoujo Senshi Sailor Moon S


48x55 pixels
---
Chibi Sailor Moon with Tiara
Sprite Style: NES - Nakayoshi to Issho



49x66 pixels
---
Manga Original Concept Design Alteration
Sprite Style: Sega Genesis - Bishoujo Senshi Sailor Moon




89x95 pixels
---
Rainbow Moon Heart Ache
Sprite Style: SNES - Sailor Moon Another Story


38x40 pixels
---
Moon Spiral Heart Attack
Sprite Style: SNES - Sailor Moon Another Story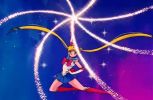 47x40 pixels
---
Moon Healing Escalation
Sprite Style: SNES - Sailor Moon Another Story



40x42 pixels
---
Eternal Moon
Sprite Style: SNES - Sailor Moon Another Story



46x47 pixels
---
Starlight Honeymoon Therapy Kiss
Sprite Style: SNES - Sailor Moon Another Story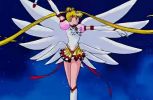 60x40 pixels
Version 2: Mini Artkal


60x40 pixels
---
Moon Revenge
Sprite Style: SNES - Sailor Moon Another Story



47x37 pixels