Sailor Mars
---
Chibi Sailor Mars
Sprite Style: NES - Nakayoshi to Issho



42x66 pixels
---
Manga Original Concept Design Alteration
Sprite Style: Sega Genesis - Bishoujo Senshi Sailor Moon




60x98 pixels I took the original concept design for her suit in the Sailor Moon manga and put it over a Sega Genesis sprite.
I still think it would be so cool if they each had a different style suit...
---
Mars Kick Ass Beauty Strike
Sprite Style: Arcade - Bishoujo Senshi Sailor Moon

Another alteration to concept design style.
Below is the original sprite and the sprite I altered.
I started her in the wrong spot of the pegboard and ended up
having to finish off her foot straight onto the masking tape.


90x105 pixels
---
Fire Soul
Sprite Style: SNES - Sailor Moon Another Story


31x40 pixels
---
Firey Mars
Sprite Style: SNES - Sailor Moon Another Story


26x38 pixels
---
Flame Sniper
Sprite Style: SNES - Sailor Moon Another Story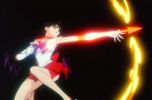 38x36 pixels