Sailor Jupiter
---
Chibi Sailor Jupiter
Sprite Style: NES - Nakayoshi to Issho




42x66 pixels
---
Manga Original Concept Design Alteration
Sprite Style: Sega Genesis - Bishoujo Senshi Sailor Moon




37x103 pixels
I took the original concept design for her suit in the Sailor Moon manga and put it over a Sega Genesis sprite. I didn't bother with the mask. Too diffucult and I think it looks kind of goofy anyways.
---
Jupiter Kick Ass Beauty Strike
Sprite Style: Arcade - Bishoujo Senshi Sailor Moon




59x107 pixels
Another alteration to concept design style. My kitty approves! Below is the original sprite and the sprite I altered.
---
Sparkling Wide Pressure
Sprite Style: SNES - Sailor Moon Another Story


35x38 pixels
---
Supreme Thunder
Sprite Style: SNES - Sailor Moon Another Story


31x41 pixels
---
Oak Evolution
Sprite Style: SNES - Sailor Moon Another Story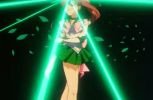 25x37 pixels